The must-have calibration tools for the manufacturers of precision machine tools

Manufacturer:

Takam Machinery Co., Ltd.
Industry:
Precision manufacturing
Challenges:
To ensure the high precision and high quality of components machining, machine assembly, complete machine testing and other manufacturing phase.
The traditional calibration tools have low flexibility, such as marble block, dial gauge, collimator etc.
Solutions:
Using XK10 laser calibrator.
To ensure the precision of the whole machine, every manufacturing phase needs inspection and calibration, from the castings, components machining, assembly to machine completion.
Currently, it's nothing new to inspect by laser calibrator after assembly in our industry, which is actually becoming a standard. However, in the process of machine tools assembly, most of the manufacturers still calibrate by mable block, dial gauge and other traditional tools which cannot adapt to modern intelligent factory. Easily to be affected by environment, the traditional test result data may be inconsistent.
For years, Takam Machinery Co., Ltd have kept strict control of quality. Takam applies Renishaw XK10 laser calibrator to improve the whole testing efficiency and reduce labor cost.
XK10 laser calibrator inspection is applied on all Takam CNC machining centers, The whole inspection time is twice shorter than the traditional one, which means more flexibility in staffing. The length measuring capacity of XK10 is 30 meters, which helps us measure several items, like the straightness, parallelism, squareness and flatness of long traval machining center.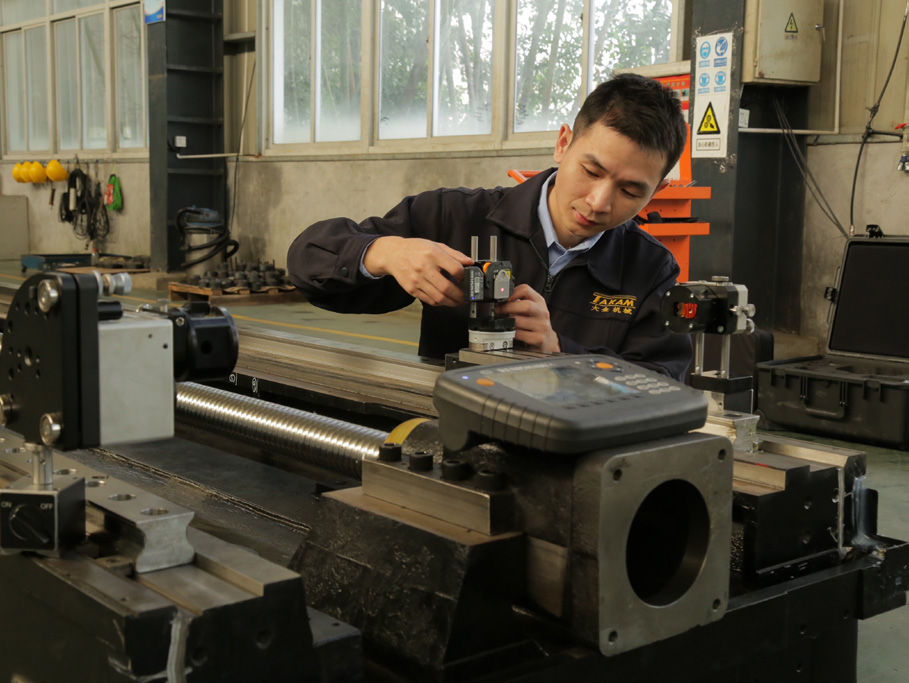 Industry challenges: the limitations of traditional tools
The challenge confronted by manufacturers all the time is how to ensure the precision in every assembly process of machine tools. The traditional ways is using dial gauge and autocollimator to inspect and calibrate the straightness of guideways, the flatness of the castings, the parallelism among guideways etc. These ways are low efficiency and have big limitations in usage. The following explains why it is. The manufacturer has to carry the relative marble block as per the size of machine tool to calibrate, which may cause personal injuries and need much space to place marble block. Meanwhile, experienced people are needed in setup and operation to prevent inconsistent calibration results. For dial gauge, it is inductive type calibration tools. Considering the experience of the operator, the deviation of calibration would accumulate a lot. Compared to these two traditional ways, autocollimator is relatively easy in measuring the straightness of single axis, but setup for measuring multi-axis like parallelism is very time-consuming. With the help of Renishaw XK10 laser calibrator, the above problems can be solved easily.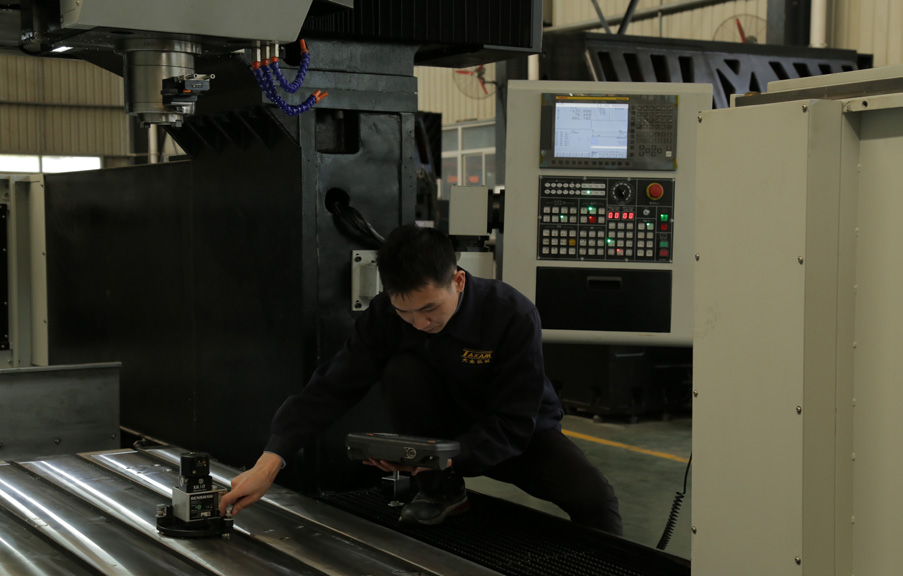 Easy operation
Renishaw XK10 is a multi-function laser calibrator which can measure the straightness, squareness, flatness, parallelism, adjust machine tool and evaluate the spindle direction and the concentricity of rotation parts. The laser head, receiver module and display device of calibrator all apply wireless communication, which makes measuring setup more flexible. The display device is like mini tablet PC. The users can collect, analyse and record data. Every measuring item has step-to-step approach to guide the users completing the whole measuring process by graph and real-time readout.
Manager Huang, in our manufacturing department 2, said, "We sought suitable calibrator in the market and compared Renishaw with other manufacturers of autocollimator. Obviously, Renishaw XK10 has advantages that others cannot compare. No matter in doing the operation interface graphic design or the report, it's intuitive to use without remembering complicated procedure. It's really convenient for our work."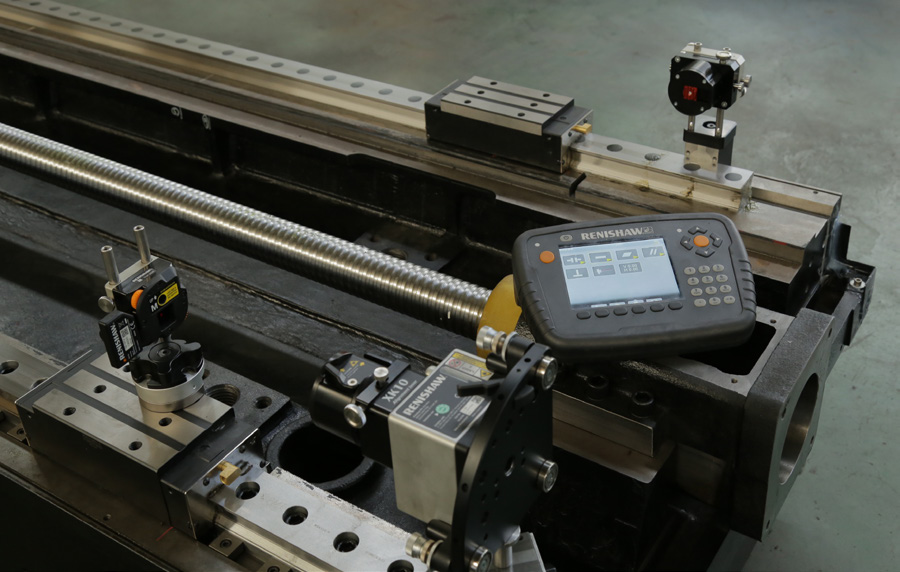 Efficiency improvement
The manufacturing efficiency is one of the biggest concerns among machine tool manufacturers. As QC department, inspection work has to be done quickly and accurately. At present, most models of Takam are inspected by using XK10 laser calibrator, including CNC vertical machining centers, CNC horizontal machining centers, CNC double column machining centers, CNC lathes etc.
Manager Ma in Takam QC department said, " From components machining, machine assembly to complete machine inspection, all Takam CNC machine tools are inspected by using Renishaw XK10 laser calibrator which is twice faster than traditional calibration tools. In the past, more than 4 hours work of two labors is required in complete inspection on a set of 20-meter CNC double column machining center. After introducing XK10, only less than two hours work of one labor is required, which means more flexibility in staffing. Moreover, it's so potable that the operator can complete inspection by himself with XK10 toolbox. XK10 laser calibrator is highly recommended in inspecting long travel machine tools. Its measuring range can reach 30 meters. Only through a set of laser calibrator can it measure most items, which cannot be done by traditional ways."
Takam has been using laser calibrator to inspect the precision of machine tools since 20 years ago. Thanks to laser calibrator for preventing us from unnecessary controversial issues.
About Takam Machinery Co., Ltd.
Takam Group is a Taiwanese-owned enterprise. There are three global production bases, located in California, USA& Taiwan and Xiamen, China. Xiamen Takam Machinery Co., Ltd engages in CNC high-tech series product development, manufacturing and sales. With many years' industry experience, our machines are widely used in the aerospace, automotive, electronics, precision molds and mechanical parts processing and many other types of industries.